Old Glory Trail Runs
November 9th, 2019
8:00am
Kairos Wilderness Resort
Shumate Falls Road, Glen Lyn, Virginia 24093
(When driving there, look for a large sign for Kairos on the left (about 2 miles) and a gate with a lefthand turn off of Shumate Falls Road. Take that left turn, head up the mountain, and you'll see the bathhouse and Ed's Place (race headquarters) on the left.
This is our inaugural year with this fabulous event that takes you through the beautiful Appalachian Mountains and crosses the Virginia/West Virginia border several times over the duration of the course. It has a fair amount of double track, some single track, and only ~1 mile on gravel road.
All runners will receive a trucker hat. All finishers will receive an Old Glory Trail Runs patch with velcro backing
Fee:
Half Marathon:
Jan 1-Sept 30, 2018: $40.00
Oct 1- Nov 8, 2018: $55.00
Nov 9/10 @ packet pickup: $65 (cash or check only)
Active Military & Veteran Price: $25.00 All the time
Ultra (28ish):
Jan 1: $50.00
Jan 2- Sept 30, 2018: $75.00
Oct 1- Nov 8, 2018: $90.00
Nov 9/10 @ packet pickup: $100 (Cash or Check only)
Active Military & Veteran Price: $45.00 All the time
10K:
Jan 1- Sept 30: $25
Oct 1- Nov 8: $40
SERIES options:
We have 3 Ultra events in the TrailAdventure series. Save a few $ and sign-up for 2 or 3 at one time.
TRIPLE: Eastern Divide 50k (EDU), High Bridge 50k (HBU), & Old Glory Ultra (OGU): $180
DOUBLE: Old Glory Ultra (OGU) & Eastern Divide 50k (EDU): $120
DOUBLE: Old Glory Ultra (OGU) & High Bridge 50k (HBU): $120
CONTACT:
Steve Englund, Race Director
e-mail: trailadventurerunning@gmail.com
Packet Pick-up:
Packet pick-up will be on location at Kairos at their main facility called "Ed's Place." This will be our race headquarters for the weekend.
Friday: 5:30-8pm
Saturday: 6:45-7:45am (or from about 8:15-8:45 for the 10k runners)
We will have a pre-race meeting on Friday at 7:30pm AND a brief meeting with final instructions before the start of each race. The Friday meeting is not required but STRONGLY recommended based on the fact that this is a relatively race. We'll go over the course and what to expect (but leave a few surprises).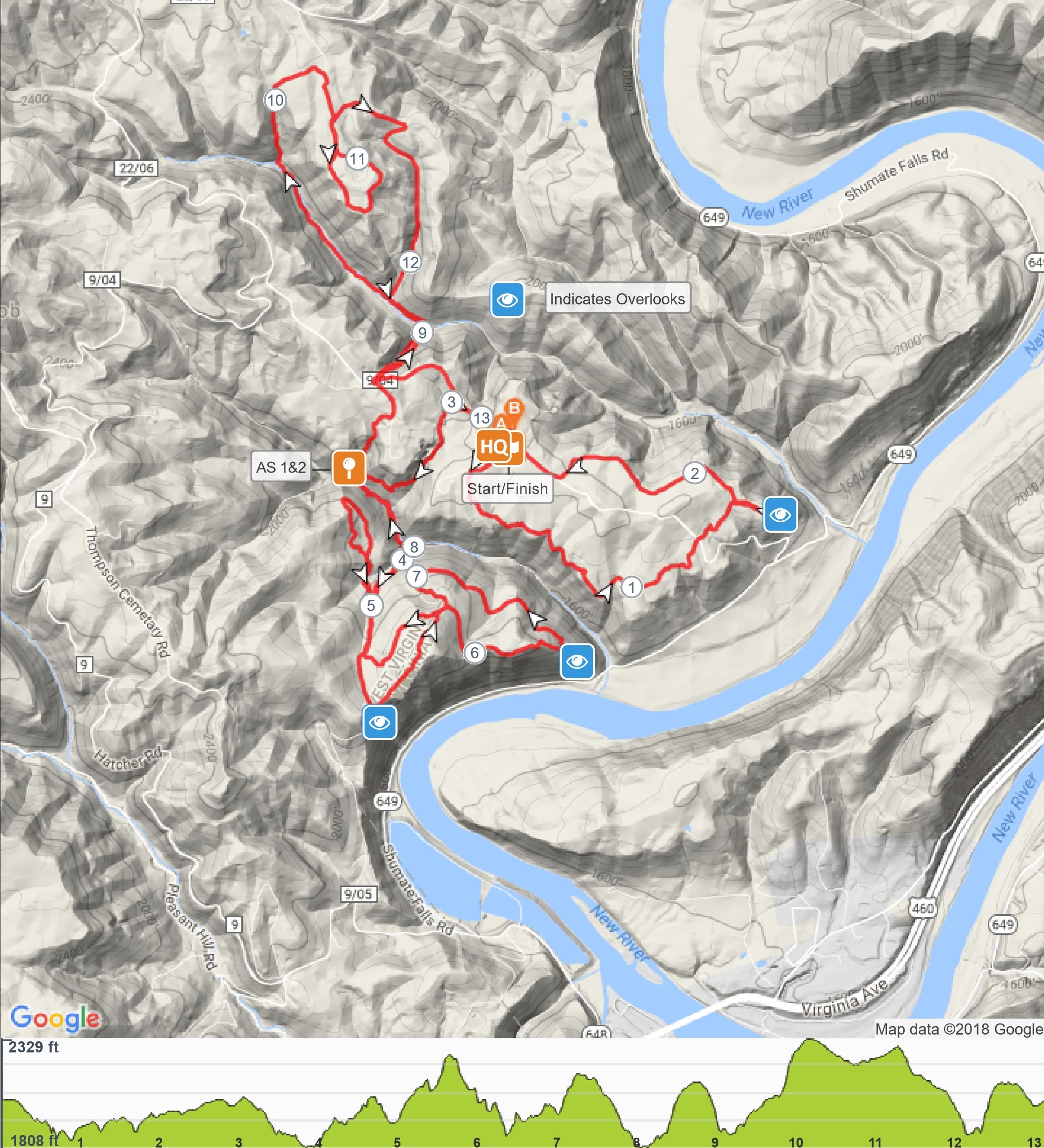 Course Information:
To see video of the course visit our Facebook page!
2018 was our first year for this race. We're excited to see it grow! After the race we sent out a race survey to ask people if they would recommend the race to their friends. Everyone that responded said something to the effect, "Absolutely, but to my experienced runner-friends." Just a heads up that this is a challenging course with lots of climbing and descending. You will likely have to hike some. Just know this as you are registering!
You can also view a video on YouTube put together by our friend Brett at East Coast Beast Coast Running. This gives a good sense of the trails. Note: There will be a lot more leaves on the trees on race day! This preview run was done in late-late December.
Half Marathon:
A basic map is to the right. For a more detailed and interactive map, including mile markings, aid station information, and elevation profile, click here. You can also find it on Strava.
The Ultra:
With the map you'll see below, you'll notice it's just under 27 miles and with 5,500+ feet of elevation gain. The mileage is close but the fancy pants mapping we used (not the one you see here) shows the elevation gain is actually closer to 6,800+.
Here's the course map w/ details: https://www.plotaroute.com/route/566979
If you click "Hills" on the right, it'll pull up the elevation profile.
Also, here's the course on Strava: https://www.strava.com/routes/12066795
Strava has the closer-to-true elevation gain.
CUTOFF: For the ultra, we have a cutoff of 6 hours at AS 4 (at mile 18ish). IF you think you'll be somewhere at this pace, we would strongly recommend bringing a headlamp just in case. Note: This is not set up as a nighttime race! Course marking will not be reflective.
The 10k:
The 10k is, roughly, the middle 6-7 miles of the half marathon. If you look at that course map, runners will basically skip the first few miles of the half and head back to the finish instead of going through, what we call, "the doughnut."
ALL RUNNERS: We will gather at the front steps of Ed's place at 7:45 for a singing of the National Anthem by one of our runners. After this, the Half and Ultra runners will walk to their start (about 100 yards).
COURSE MARKING:
The course will be flagged with pink ribbon with black polka dots. There will also be signs (a lot of them) at intersections to direct runners. There are several sections where different distances will split off to head to the finish. PLEASE BE ATTENTIVE TO THE SIGNS!
Remember this:
Ultra: Red
Half Marathon: White
10k: Blue
ACCOMMODATIONS:
Kairos Resort has camping options (tent camping and camper hookups with water and electric) and YURTS! If you want a sweet yurt (you know you do!), you better move quickly! More information can be found on Kairos' site.
For tent camping at Kairos: Kairos is giving racers a discount. The cost is $15 per site. This includes car or tent camping.
Kairos also has RV camping pads available with full water and electric hookups. The cost for RV camping there is $45 per site.
For Tent/Car or RV camping at Kairos, you need to call Kairos directly to set that up. Call 540-235-2777 and tell them you're planning to camp there for the race. They'll set you up! Camping right there at the race location is a great way to go about it. There is a full bath house available as well.
Hotels:
Princeton, WV is just 20 minutes away from Kairos with several options for hotels.
Blacksburg, VA (home to TrailAdventure) is about 50 minutes away and has several hotels as well.
Parking:
There will plenty of parking for racers and spectators. It will be behind the bathhouse which will be obvious when you get there. We will likely not have parking attendants - please be reasonable!
Aid Stations:
There are 5 aid stations. Each will be fully stocked and we will have you covered with water, Tailwind, Honey Stinger products, and standard aid station food.
Runners are highly encouraged to carry water of their own throughout the race (belt, handheld, pack, etc).
In an effort to be more sustainable and be friendly towards the environment, the Old Glory Trail Runs is a cupless race. There will be no cups at aid stations! All runners will need to carry their own reusable cup throughout the race to use at aid stations. If you do not have one already, you have the option to purchase one of our TrailAdventure cups when registering and it will be waiting for you at packet pick-up.
There are no drop bags for this race.
Post Race Food:
There will be a cookout at the finish of the race with typical cookout fare and plenty of room to spread out and relax after all those miles. (Plus showers - there are showers!)
Weather:
Weather during this time of year can be chilly and overcast. Making for a great day to run! Highs are usually in the low 50s, but you will be on the trails with coverage, so it may feel even cooler. We'll have firepits and a heated tent at the finish to keep you warm! Bring a camp chair to lounge by one!